It's official: We have a new definition of consumer harm ... and data control is a basis for antitrust
Also: The U.S. vs Huawei fight is now thermonuclear
So that was a week… Here we go:
For years, Silicon Valley and Big Tech have bemoaned regulators' and lawmakers' ignorance of their core business practices. At times, they openly argued that regulators needed to be "disrupted" for the 21st century.
Today, those efforts appear to be backfiring (details below). As those regulators and lawmakers have gained missing knowledge, Silicon Valley behemoths have been fined billions by European regulators, and the companies have scrambled to prevent similar outcomes in the U.S.
They're not succeeding. U.S. regulators and lawmakers this week began calling loudly for the explicit protection of personal consumer data — the "oil" on which Silicon Valley and Big Tech businesses now run — and the punishment of companies that steal or even fail to protect that data. More cofounders and industry organizations are coming forward with accusations of hidden agendas and their own regrets over what these companies have become. And in an unprecedented display of unity, top antitrust decision makers at the U.S. Department of Justice, the Federal Trade Commission, and throughout Congress are all now saying they view the Silicon Valley / Big Tech business practice of extremely early-stage acquisitions — the "acqui-hiring" and "catch and kill" of potential competitors who could threaten their data collection before the companies reached FTC-review thresholds — as an illegal manipulation of markets… and grounds to specifically break up the companies.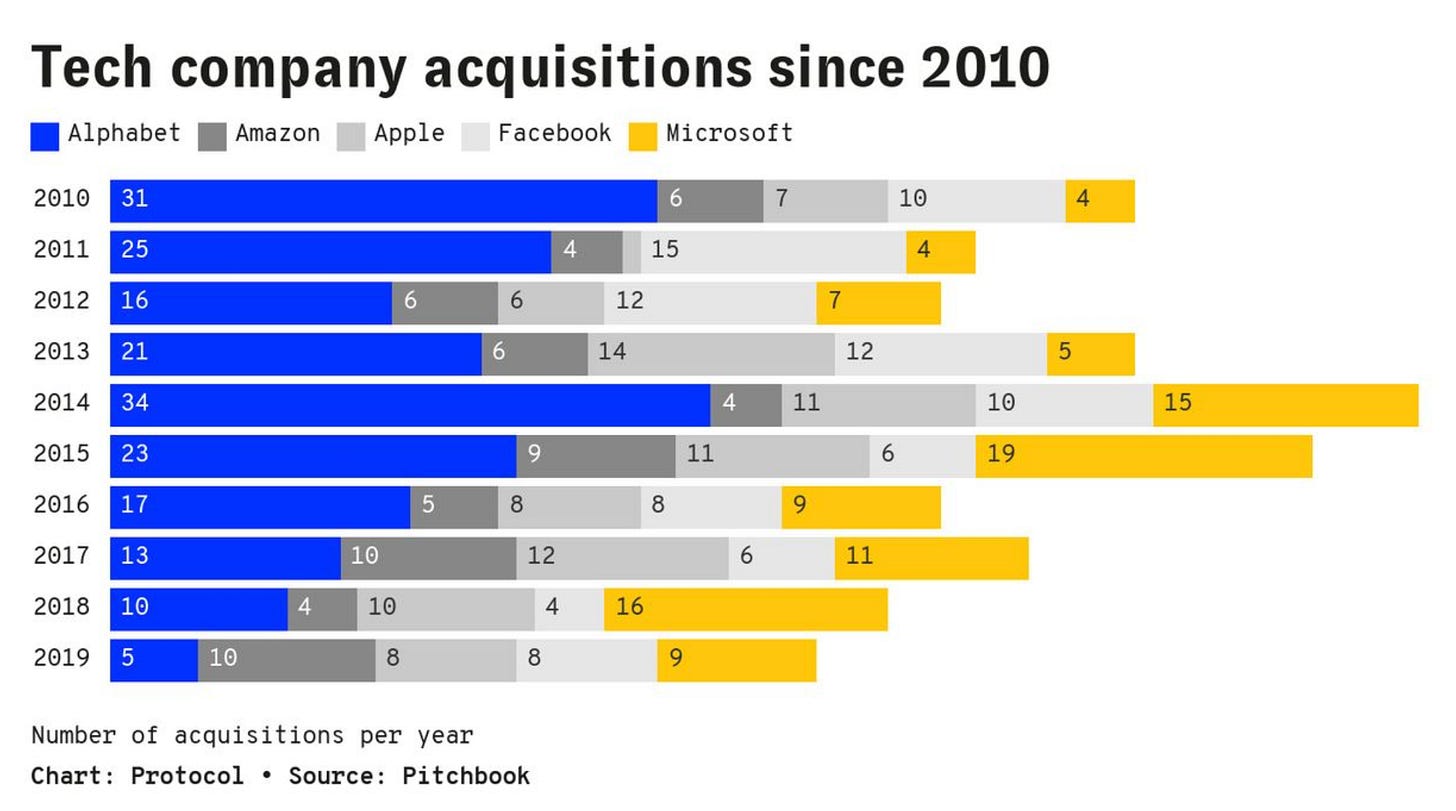 Central to this shift is a change in what constitutes consumer harm. In the 20th century, consumer harm centered on price. If prices went up, consumers were harmed; if they went down, no changes were necessary. But in the 21st century, that interpretation is proving inept since the "freemium" business model popularized by Silicon Valley startups — and galvanized by Big Tech behemoths — means "costs" to consumers are much broader.
Consumers today also pay for goods and services with myriad information on their preferences, behaviors, health status and concerns, second-by-second physical location, vital signs, and uncountable other bits about themselves and their proclivities. And once the companies collecting this data move to broker or sell it without explicit consent — which happens incessantly — consumers also pay with their privacy.
In the past 10 days, actions from regulators and others suggest this free-wheeling theft could finally come to a screeching halt…
REGULATORS & LAWMAKERS

CO-FOUNDERS, INDUSTRY GROUPS & ENTIRE BUSINESS SECTORS

TOP ANTI-TRUST DECISION MAKERS
Ten days ago, the FTC's new director of its Bureau of Competition as well as an EU official each offered specifics of how a breakup of Facebook would happen. Though strongly worded and offering unprecedented specifics, the comments now pale compared to what was revealed in the past week:
Once again, the lesson for Silicon Valley and Big Tech is to be careful what you wish for. Washington DC finally understands tech. And if these companies are smart — which is not clear at this point — they'll orchestrate their own breakups to keep maximum control over what's looking increasingly inevitable.
---
TODAY IN…
DEEP TECH:
MEDIA & TELECOM:
HEALTHCARE TECH:
FINANCE:
PUBLIC POLICY:
And finally…